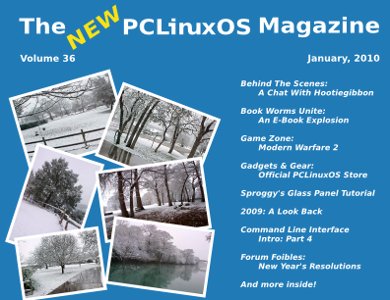 The NEW PCLinuxOS Magazine staff is pleased to announce the release of the January 2010 issue of the PCLinuxOS Magazine. The NEW PCLinuxOS Magazine is a product of the PCLinuxOS community, published by volunteers from the community.
In the January 2010 issue:
2009: A Look Back
Game Zone: Modern Warfare 2
Behind The Scenes: A Chat With Hootiegibbon
Sproggy's Glass Panel Tutorial
Command Line Interface Intro: Part 4
Double Take & Mark's Quick Gimp Tip
Forum Foibles
Ms_meme's nook
Book Worms Unite: An E-Book Explosion
Archiving Movies With dvd::rip – An Update
Computer Languages A to Z: Guile
Gadgets & Gear: Official PCLinuxOS Store Opens
Screenshot Showcase
and much, much more!
This month's cover features snowy winter pictures captured by magazine staff member ms_meme.
Download the PDF (8.3 MB)